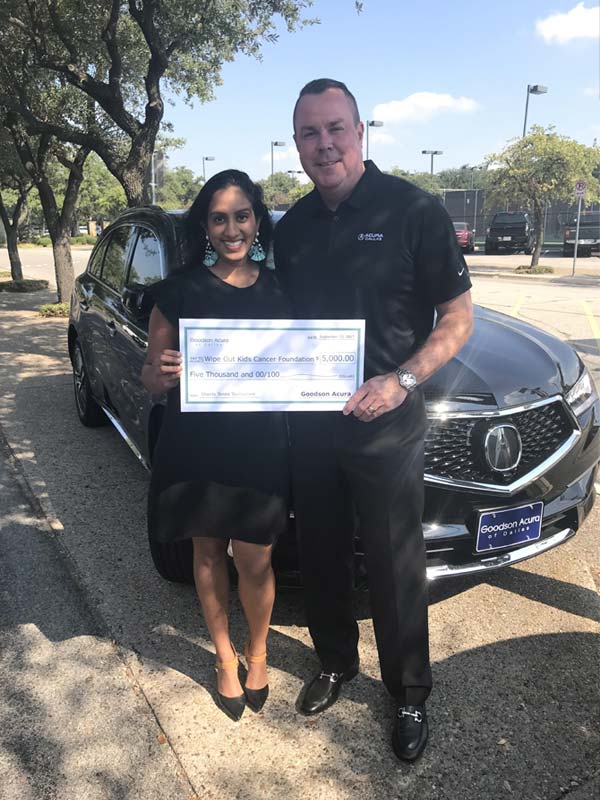 Pictured above is the General Manager of Goodson Acura, Chip Cottingame, handing a check for $5,000 to a representative for the Wipe Out Kids' Cancer Foundation. Every year, for the past 17 years, Goodson Acura has participated in the Wipe Out Kid's Cancer benefit and this year was no different. Goodson Acura sponsored The Wipe Out Kids Cancer (WOKC) Tennis Charity Benefit that took place on September 22-24, 2017, and was a great success.
Over 250 participants made their way to Brookhaven Country Club in Farmers Branch, TX and played their hearts out to raise money for The Wipe Out Kids' Cancer Foundation. WOKC is a Dallas based non-profit organization that raises money and awareness for pediatric cancer research. Since they began in 1980, they have raised over $5.5 million which goes towards research and developing programs to help children live cancer free. They also provide hope and help for the families of these children.
Goodson Acura is thankful that we get to be a part of this wonderful organization and we know that the $5,000 that we donated this year will be put to good use. If you'd like to learn more about The Wipe Out Kids' Cancer Foundation or see how you can participate yourself, feel free to contact us, here at Goodson Acura, or stop by our dealership to learn more.