Goodson Acura of Dallas Covid-19 Update
To our valued customers:
With respect to the COVID-19 pandemic, we have been focused on the health and safety of our customers, employees and community. With this focus paramount, we would like to ensure that you are aware of the precautionary measures we are taking at Goodson Acura.
Deep cleaning:
We have increased our cleaning and disinfecting in and around the store to include reinforced hygiene protocols with handwashing reminders and provision of hand sanitizers, disinfecting wipes and sprays and cleaning the washrooms hourly.
Hours of operation:
Our temporary hours of operation are:
Self Service Hours  
Monday-Friday 9:00am - 7:00pm
Saturday 9:00am - 6:00pm
Service
Monday-Friday 7:00am - 5:30pm
Service 8:00am - 4:00pm
Offering a complimentary Valet for ALL Service clients: We will pick up, drop off and sanitize your vehicle. 
We are happy to answer any sales or service related questions by phone, email, and video call. We are more than happy to assist you with any sales, service or financing needs. Please call us at 214-692-2872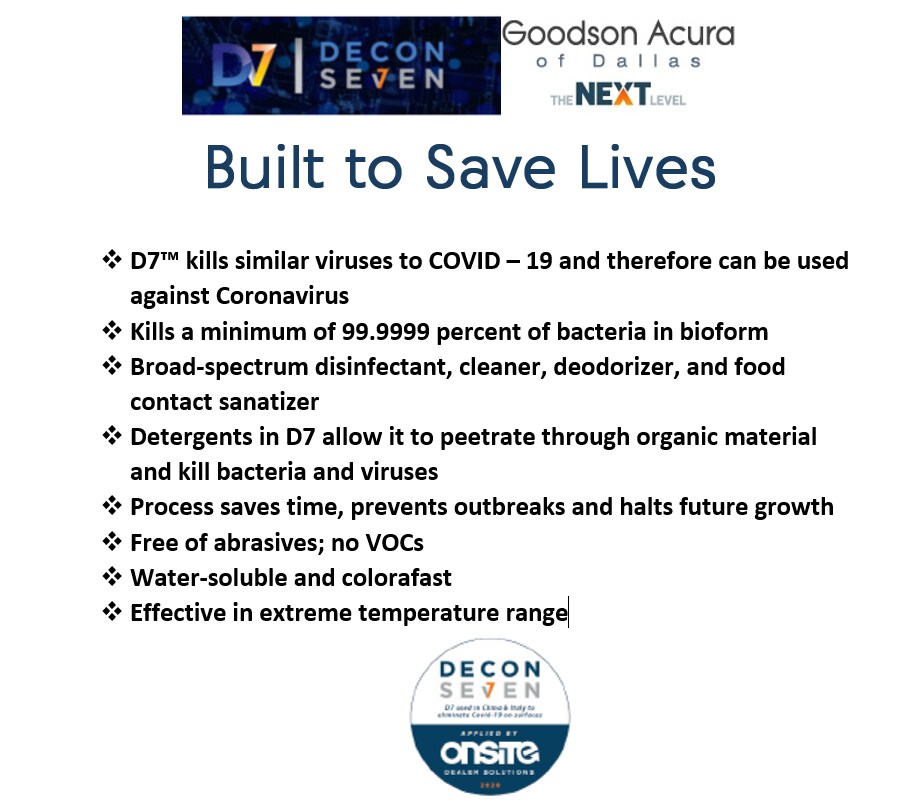 Our employees:
Our employees have been asked to self-isolate if they have shown symptoms, or if they've traveled outside of DFW. Employees are following a standard protocol to ensure more frequent handwashing. There is also mandatory employee use of gloves, seat covers, and protective steering wheel covers.
Our service:
Customer's vehicles are equipped with a steering wheel and seat cover during service and will be sanitized before and after servicing. There are proper sanitization practices in place to wipe down vehicle door handles, steering wheels and gearshifts of each vehicle before and after service.
Vehicle pick-up and drop-off:
Purchased vehicles can be delivered to your driveway, including paperwork. If you are dropping off a vehicle for service, you can drop it off at our service area parking lot.
Online availability:
As always, we invite you to shop our entire inventory at  Our Self Service Store, where we are always open. Our team will be on hand to assist you for further details and appointments you require.
Thank you for being part of our community. We will continue to monitor the situation closely and will evolve our policies per the guidance of federal, provincial and local health authorities. If you have any concerns or questions about our efforts related to COVID-19, please do not hesitate to contact us directly.
Sincerely,
Ankur Javia 
Goodson Acura of Dallas
General Manager